Fentimans botanically brewed beverages are the perfect soft drinks for the summer. Find out more about the range and how you can support the Big Cycle.
Summer is here with its warm weather and long days.  On a hot summer evening there is nothing nicer than sitting in the garden with a cold drink. It is a good chance to catch up with old friends. Recently I have been trying out some Fenitmans
botanically
brewed soft drinks. They have a great range of soft drinks for the summer.
From the traditional like lemonade, ginger beer and dandelion and burdock to a range of tonic water mixers
Fentimans soft drinks
Fentimans soft drinks
are made by
a  local North East independent family company. They
are based
in Hexham. Fentimans have a large range of soft drinks and mixers. They make these using a botanical brewing process. This process has been in place for over 100 years. The recipes and knowledge has gone down though generations of the Fentiman family.
In 1905 Thomas Fentiman acquired a recipe for
botanically
brewed ginger beer in exchange for a loan
. The loan was never repaid. Thomas keptthe recipe and began producing and selling the ginger beer. He took it from door to door using a horse and cart.  The business soon took off as the drinks became popular.
100 years later Fentimans are still brewing their botanical drinks and the business is still in the family
. The current owner is the  Great Grandson of Thomas Fentiman. The range of drinks is bigger and the brewing process is up to date.
The only thing that hasn't change is that the bottle still have an image of Thomas' pet dog "Fearless". He won the Crufts obediance class in 1933 and 1934.
Fentimans Soft Drinks Range
My first encounter with Fentimans soft drinks was at
Beamish Museum.
Beamish is a living history museum which tells the story of life in North East England during the 1820s, 1900s & 1940s
. It is well worth a visit as this living museum takes you back in time.
All the buildings, vehicles and costumes are authentic. The food
is made
in the traditional way. Fentimans Victorian Lemonade and Dandelion and Burdock help take you back in timel. The Victorian lemonade is full of lemon flavour. It reminds me of the home-made lemonade my granny would make.
Dandelion and burdock is a drink my granddad would drink. These days it tends to be more fizz than flavour. Fentimans dandelion and burdock takes me back to my childhood. It is proper dandelion and burdock, a very distinctive flavour and taste. If you haven't tried it you must.  Fentimans ginger beer is also delicious,
softly
sparkling with a subtle ginger taste. It is a ginger beer the Famous Five would be proud of. Perfect for a picnic or a summer evening in the garden. The Rose Lemonade is lemony with floral overtones which is gorgeous.

The eagle eyed amongst you will notice that the ginger beer bottle has adifferent label.
On the 29th June, Eldon Robinson who is the great great grandson of Thomas Fenitmanis taking part in a 300+ mile cycle
. This is to help raise over £20,000 for the Rainbow Trust. The Big Cycle is an epic undertaking and if you want to support this great cause click on their
Just Giving page. 
Fentimans also have more modern flavours, like their Sparkling Elderflower, Sparkling Lime and Jasmine and Sparkling Raspberry
. These have subtle and gentle flavours are ideal for the summer.
The subtle floral hints are refreshing and they are a summer drink with a touch of sophistication
. If you are looking for something different for a barbecue party would be a good choice.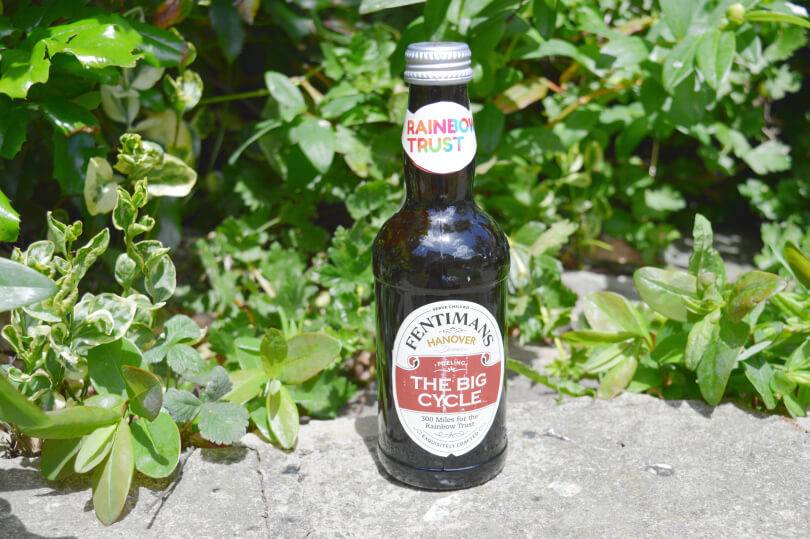 Fenitmans Mixers range
Recent years have seen an upsurge in gin as a drink. Most cities now have a gin bar and often gin festivals in the summer. Fentimans have a lovely range of tonics that are perfect with ice and a gin. If gin is not your thing they are also lovely on their own or with another alcoholic beverage.
Everyone is familiar with Indian tonic water. The original drink contains quinine and it was often used to help prevent malaria. It can be a bitter drink but Fentimans Indian tonic has a lovely flavour. It contains lemongrass which is really refreshing. The light tonic water is a lovely drink on its own with ice. Connoisseurs tonic water is a lovely blend with a slightly floral taste. It would complement a gin.
I really like the range of flavoured tonic waters, Valencian orange, pink grapefruit and botanical tonic water. These would create a great base for a cocktail and I am going to have to experiment with some recipes. They are really unusual and make a change from plain tonic water. If you are looking for some soft drinks for the summer you will definitely find something in the Fentimans range.
The Big Cycle
Starting on the 29th June, The Big Cycle is an epic 7 day 300 mile cycle which is aiming to raise money and awareness for The Rainbow Trust. Two drinks companies, Hanover Dairies and Fentimans are teaming up to raise funds for the charity. They will cycle the distance from Hanover Head office in Blaydon On Tyne to Rainbow Trust Head Office in Leatherhead, Surrey.
The cycle will take on some of the most challening national parks and countryside across the UK. It starts in Kielder Forest, goes to Lake Windermere and then from Kendal to Preson Lancaster Canal, the Peak District, Cannock Forest Trails, the Forest of Dean and then it finally finishes at the Rainbow Trust HQ in Surrey. The team hope to raise over £20,000 for the Rainbow Trust.
The Rainbow Trust is a national charity which offers emotional and practical support for the whole family when a child is diagnosed with a serious illness. Can you imagine what it must be like to have to deal with a seriously ill child? It must be so difficult. The Rainbow Trust is there to support the whole family from diagnosis, during treatment and, if needed, through bereavement.  It relies on voluntary donations and the money raised will help the charity support over 2,300 families throughout England.
To support 'The Big Cycle' and make an online donation visit:
https://www.justgiving.com/fundraising/hanover-dairies-limited
The text message giving code to donate via text is: MILK73 to 70070
Why not help this great cause?
I was sent some samples of drinks to try for the purposes of this post. My opinions are honest and my own.