Dealspotr is a deals website with the aim of helping you find deals and discounts to help save you money. When money is tight it is a great way to make sure you get the best deal.
These days whenever I need to make a purchase I always look for the best deal. It is usually possible to find coupons and discounts on-line that help you save money. Often these discount codes are out of date which can be frustrating when you come to use them. Recently I have been looking at Dealspotr. This is a site which aims to bring you the most up-to-date deals, offers and voucher codes saving you money. The twist is that the users of Dealspotr post and verify that the deals work. Each submission made is commented on by others to ensure that you know the deal is live and still works. Dealspotr is a discount site with a social twist.
Dealspotr – How does it work?
When you go to the Dealspotr website you can see all the deals without being a member. This is great if you just want to find a deal without logging in. At first sight it looks like all the deals are for the USA. To view the UK deals just put UK in the search bar and you will see all the deals for the UK. These range from promo codes to discounts or free shipping, it is easy to find what you are looking for.
To get the most from the website you need to be a member. This allows you to post deals, update and validate offers and also refer friends. By doing these things you earn points which can be converted into Amazon vouchers. This ensures all the deals are reliable and up-to-date as members gain rewards for keeping it this way.
You can earn 5000 points by signing up via my referral link for Dealspotr. You need 10,000 points for a $10 Amazon gift card so you will be half way there.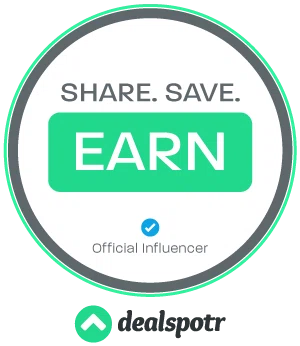 After creating an account you get a list of actions to take to help you earn points. You also have the option to personalise your feed. This allows you to select which deals are relevant to you so they appear on the feed in your profile. You can choose from companies you want to see as well as selecting your interests. Dealspotr will then make suggestions for other stores you might want to follow.
How to Earn Points on Dealspotr
There are a number of different ways to earn points on Dealspotr. When you get 10,000 you can swap them for a $10 Amazon voucher. If you are a gold influencer you can also get paid with paypal but you do need a blog for this. The main ways to earn points are as follows:
Add a new deal – to do this just click on the big blue Add a Deal button on the homepage.
Validate a deal – use it and prove it works by using a screenshot of your shopping basket.
Complete your daily checklist – a little list of tasks that will earn you 200 points. This can be things like share a deal on social media or spot a deal.
Refer a new member – you earn 10% of points generated from your referrals
It is a bit of a learning curve to start with but having deals that are checked and verified by a crowd of people can only be a good thing. It means when you go to buy something you are sure you are using a valid discount. You can also earn from verifying the deal yourself. It only takes a couple of minutes to grab and post a screenshot. The site is free and as it gets more UK members there will be more UK deals. It is definitely worth signing up and trying it out.
Do you use any discount websites on a regular basis? Would you use Dealspotr? Let me know below.

I was made a gold member for writing this post